What are the best tools for link building?
Run a Google search and you'll come across 11.7 million results!


A lot of the posts list dozens of different tools. And, while the lists are comprehensive, the tools usually aren't organized by category or use case.
The result? You often come away feeling overwhelmed and not knowing where to start.
To scale quality link building, you need to assemble a powerful stack of tools covering 5 core areas:
Link analysis
Link prospecting
Finding contact information
Outreach management
Tracking & reporting
So, how do you wade through the countless tools out there and find the best option for each specific area of your link building campaign?
To help you find a quick answer, I reached out to 82 link builders and asked the following question:
What is your best link building tool in each of the following categories — (1) Analysis, (2) prospecting, (3) finding contact information, (4) outreach, and (5) tracking & reporting?
All these folks are in the trenches running small, medium, and large scale link building campaigns for clients across a wide range of industries. I wanted to see which tools would get the most votes in each category.
Whether you're looking to build out a full tool set, or you're just after the best tool for a specific part of your campaign, this post will give you a battle-tested shortlist of options to look at.
Before we dive into the results, you can click the download button below to get my free link building ebook. It includes 19 actionable strategies, templates and scripts I've used to land thousands of quality links for this blog, and my clients:
I have included some jump links so you can quickly navigate around the post to find the best tools for a specific area of your campaign.
#1: Top Competitive Link Analysis Tool
#3: Top Tool for Finding Contact Information
#4: Top Tool for Outreach Management
#5: Top Tool for Link Tracking
Ok, now for the results.
OVERALL WINNER: Ahrefs is the overall winner with 89 votes across the board. Almost three quarters of the experts I surveyed use Ahrefs for at least one area of link building.

*Disclosure: There are some affiliate links in this article. If you decide to purchase a tool through one of those affiliate links, I will receive a commission at no additional cost to you. 
1. Best Tools for Backlink Analysis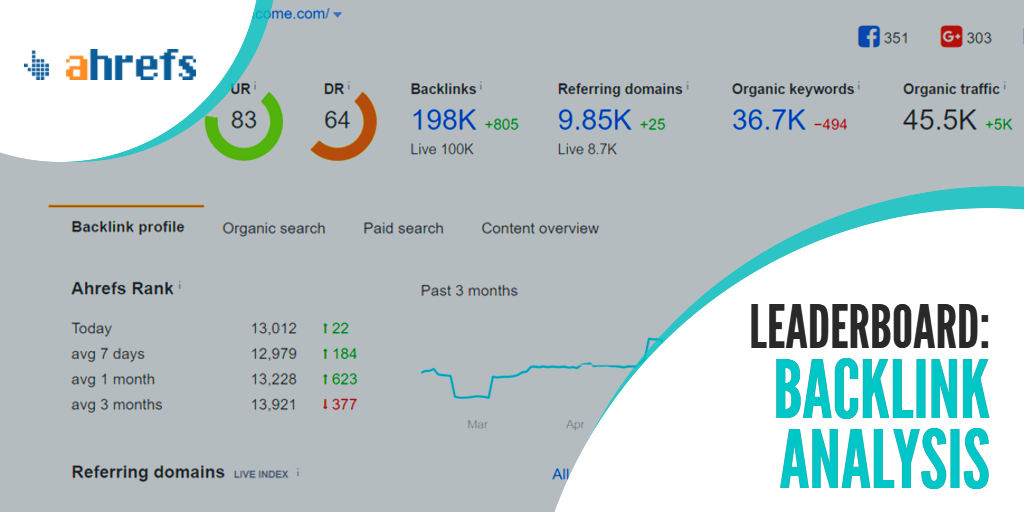 #1: Ahrefs (54)
#2: SEMrush (14)
With over three times as many votes as SEMrush, Ahrefs is the clear winner for competitive link analysis.
Ahrefs' massive link index gives it a competitive advantage when it comes to backlink analysis and competitor research; combine that with a clean UI and you've got a true analysis powerhouse.
Here are some of the ways SEO experts use Ahrefs for competitive link analysis:
Build a list of viable link opportunities by using Link Intersect to see pages that link to your competitors but not to you
Research competitor coverage in the news so you know which outlets and journalists to pitch
Spy on the competition's hottest content and most valuable pages (and uncover low quality links, too)
Quickly find new and lost links
Avoid wasting valuable time waiting for the crawler to return results; Ahrefs is instant and user-friendly
2. Best Tools for Link Prospecting
#1: Ahrefs (13)
#2: BuzzSumo (11)
Ahrefs narrowly steals first place, just two votes ahead of Buzzsumo.
Here are five important reasons the experts think Ahrefs is the best tool for link prospecting:
Use the Best By Links report to identify the content topics and types that generate the most links for competitors
Use advanced filters to quickly find relevant sites linking to your competitors
Use the Link Intersect report to find all the sites linking to multiple competitors
Use the Link Intersect report to identify all the sites linking to competitors on a recurring basis
Use the SEO Toolbar to analyze link metrics and quality prospects directly in the SERPs
3. Best Tools for Finding Contact Information
#1: Hunter (25)
#2: Buzzstream (10)
Both of these tools take a domain and return an email address, but Hunter — found to be more reliable and easier to use — beats BuzzStream with more than twice as many votes.
Here's why the experts love Hunter for finding contact information for outreach prospects:
Hunt emails without switching tools or tabs — Hunter has a Chrome extension you can activate on the prospect's website to quickly pull up their email address
Validate VA-sourced email addresses in bulk before sending a huge outreach campaign to the wrong emails
Get a prospect's email address from their LinkedIn URL; a lot of marketers use LinkedIn for prospecting, so Hunter fits right into that workflow
See the sources of any hunted email address so you know the information is reliable
Bulk lookup with Hunter's Google Sheets add-on. Fantastic for big campaigns
4. Best Tools for Outreach Management
#1: BuzzStream (29)
#2: Google Sheets (10)
BuzzStream is a dedicated tool for outreach management that includes automatic email finding, campaign tracking, and bulk emailing. It's like a CRM for all of your marketing contacts.
Sorry, Google Sheets, the winner here is obvious — marketers want a made-to-measure tool that just works, not one that needs a ton of configuration.
Here's why SEO experts chose BuzzStream by such a wide margin:
Manage bulk emails without being spammy; it's easy to monitor responses and add personalization
Automatically scrape contact information and influence metrics from a list of domains so you know how to prioritize outreach
Juggle thousands of prospects across multiple clients with a variety of outreach methods
Track how effective your outreach campaign is, and optimize based on open rate, click-through, and reply percentage
Add tags and notes to journalists so you can build a powerful and filterable library of up-to-date outreach contacts
5. Best Tools for Link Tracking and Reporting
#1: Ahrefs (22)
#2: Google Sheets (21)
It was a tough fight. Google Sheets almost pulled through, but Ahrefs edged into its second category win (and third victory over all!) for link tracking and reporting. And that's for a good reason.
While nothing beats a spreadsheet for general purpose number-crunching, Ahrefs' dashboard generates amazing reports, and its link tracking is second to none.
Here's why the majority of SEO experts choose Ahrefs for link tracking and reporting:
Get accurate, up-to-the-minute data on backlinks thanks to Ahrefs' massive 12 trillion+ link index
See your link building momentum with the referring domains graph
The new links report is powerful in conjunction with Google Analytics; use the new links in a custom GA report to get data on referral traffic
Log trends and historical data automatically — Ahrefs is "set it and forget it", so you don't have to keep coming back and plugging new data in
Get email alerts for new backlinks, and send new backlinks to an RSS feed to always stay on top of new links wherever you are
82 Experts Reveal Their Favorite Link Building Tools for 2019
That was a quick look at the category winners for SEO link building tools, but there's a lot more insight in the responses below.
Plus, there are some lesser-known tools that might just become a new secret weapon in your link building arsenal.
Let's jump in:
I highly recommend this tool to anyone who does link building on a larger scale and doesn't want to send pitches to the same prospects. Also, Pitchbox lets us keep our email exchange history all in one place.
Google Alerts is also great with keep track of coverage achieved by sending alert emails, established through certain metrics/keywords.
5. Link tracking & reporting.
2.) Gmail + Yesware
3.) Rapportive + Gmail + Google Search
4.) Content Manager + Link Manager in Raven Tools
5.) Hate to be repetitive, but Raven Tools makes this easy too! (Link Manager + Interactive Reporting)
3. Mail Hunter is a chrome extension that is easy to use and effective.
4. Buzzstream again, helps you monitor who has responded and sending out emails in bulk.
5. Ahrefs, thanks to their accuracy.
3. Hunter.io & manual checking of websites (use worker in the Philippines on Upwork) to find emails.
4. Mailshake hands down is the easiest and most feature-rich for a relatively paltry monthly investment.
5. A combination of Ahrefs, Mention, & Buzzsumo to automatically send me updates on new backlinks secured and Google Sheets to keep a master list of all links to show to the client.
2. Prospecting and outreach
2). Visiting targeted publisher sites, similar projects in BuzzStream
5). Google Spreadsheets
2. Majestic to identify number of referring domains et cetera
For competitor research: Ahrefs, Majestic and SEMrush.
For prospecting and outreach: Dibz and SEOJet.
For finding contact information: VoilaNorbet and LinkedIn.
For outreach management: Buzzstream and Excel.
For link tracking and reporting: Excel and Linkody.
Which Link Building Tools Will You Be Using in 2019?
There you have it – 82 SEO experts revealed the link building tools they'll be using in 2019.
Which tools will you be using? Find any new ones?
Let me know in the comments below.