You're probably familiar with keyword research to find topics you can rank for on Google.
But did you know you can also find keywords for link building?
From identifying "linkable" content topics to existing keyword targets that will benefit from new backlinks, and anchor targeting, you can use keyword research in countless ways for link building.
In this guide, we'll explore several actionable ways you can use keyword research for more effective link-building campaigns.
Let's dive in!
Disclosure: There are some affiliate links in this article. If you decide to purchase a tool through one of those affiliate links, I will receive a commission at no additional cost to you. Thanks for your support.
How to Find Keywords for Link Building (3 Methods)
In this section, we're going to cover 3 ways you can find keywords for link building.
Rank for "linkable" keywords
The first method involves using keyword research to find topics that are proven to drive passive backlinks. That means keywords you can rank for that people will naturally link to and/or cite in their own content without you having to do any outreach.
For example, here's a screenshot for one of our agency clients where we were able to rank for a highly linkable topic: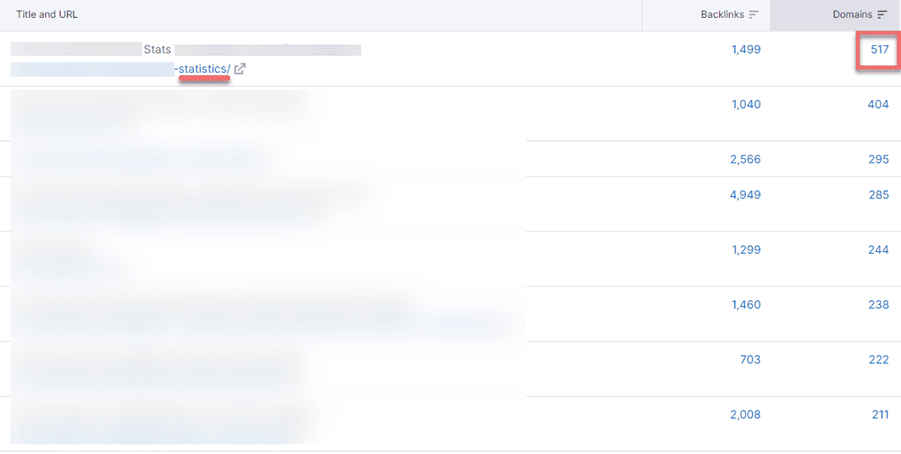 The post has brought in over 500 referring domains. And we did zero outreach link acquisition.
We were able to rank for a "stats-based" topic that has almost 1,000 searches per month. It's the type of content other websites naturally cite when looking for stats to support a point about different sales topics, such as cold calling or sales follow-up.
Here's how you can find these types of linkable keywords…
Use topical keywords + modifiers
Let's say you are a sales software company.
You could make a list of broad category/topical keywords, such as:
The goal here is to find something broad enough that is still relevant when you can add "linkable" modifiers like "statistics" and "trends". For example, "sales statistics" or "lead generation trends". These are the kind of topics people are looking to reference in their content and, as a result, passively link to your article as a reference.
Here's how to quickly find the best opportunities in Semrush (aff):
Enter a modifier – e.g. stats or trends – into the Keyword Magic Tool.
In the "Include keywords" tab, select "Any keywords" and enter the topics you brainstormed – e.g. sales, lead generation, etc.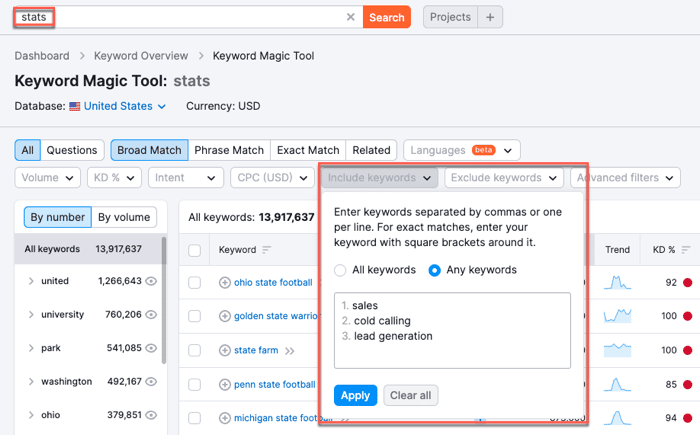 Next, to quickly confirm that these are linkable topics, you can click the ">>" next to a keyword and open up the SERP overview report. Here's an example of "automotive sales trend statistics":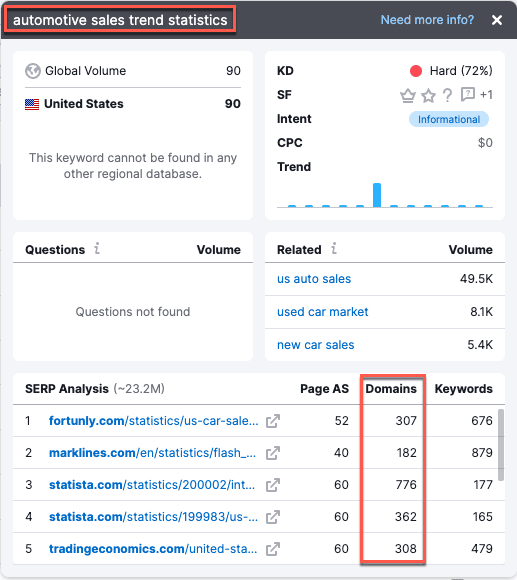 Check the Domains column for each URL. If you see multiple URLs with 100+ backlinks, it's likely a great linkable topic.
Editor's Note: Remember that the goal of these keyword targets is to rank for passive link generation so that you grow Domain Authority. And then pass that equity on by internally linking to higher value pages on your site.
Reverse-engineer competitors
Another way to quickly find linkable keywords is to reverse-engineer the topics that drive the most backlinks to your competitor's website.
In Semrush:
Go to the Backlink Analytics (aff) report and enter your domain – e.g. backlinko.com.
Click the Indexed Pages tab to see a table of the most linked URLs on the domain.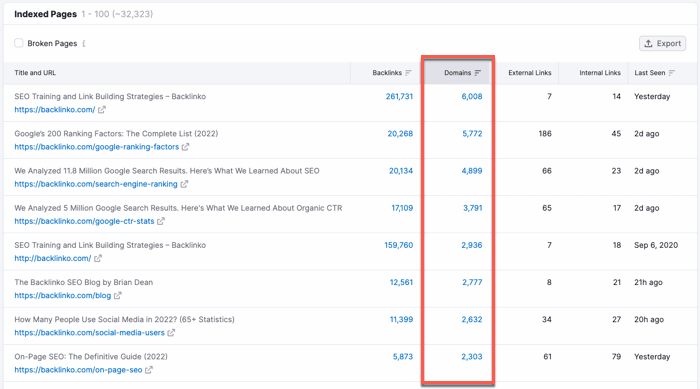 Scan the title tags and URL slugs to quickly get a sense of which topics are getting linked to the most. Chances are they will fall into the "linkable" keywords category.
For example, on Backlinko, I can quickly see in the Domains columns that the site has URLs with thousands of backlinks related to:
Google Ranking Factors.
CTR Stats.
Content and Voice Search studies.
Plus, top-level SEO topics, such as On-page SEO and Keyword Research. All of these are strong linkable topics to explore further.

2. Find existing keywords with backlink gaps
Another effective way to perform keyword research for link building is to identify high-priority keywords already ranking at the bottom of page one/ top of page two with a lower page-level link count than your competitors.
In Semrush (aff):
Enter your domain into the Organic Research report – e.g. www.robbierichards.com
Go to the Positions tab. Add positions filter 5-15. (If you have an extensive list, reduce that threshold to 5-10 and add a minimum volume filter to make it more manageable.)
Sort the keywords by Search Volume (descending):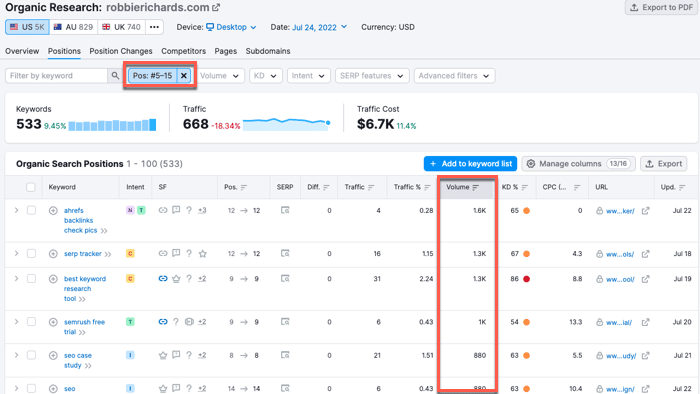 You could also add a commercial or transactional intent filter to identify the "monetizable" keywords with a better chance of boosting rankings with some backlinks. For example, I might want to generate some additional affiliate income:

Once you've shortlisted the highest-value existing keywords for link building, click the ">>" arrows next to the most interesting keywords to see if you might need to acquire additional backlinks to move into the top 3 or 5 positions.
For example, "semrush free trial" would be an excellent keyword for me to look at closer.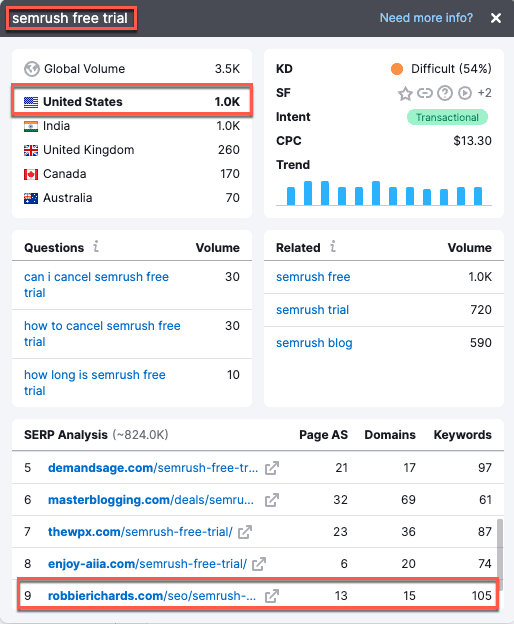 After opening the SERP overview report, I see that the keyword has 1,000 searches per month, but I rank in 9th position.
The SERP Analysis report shows that my page level backlink count and subsequent page authority score are below most of the sites ranking above me.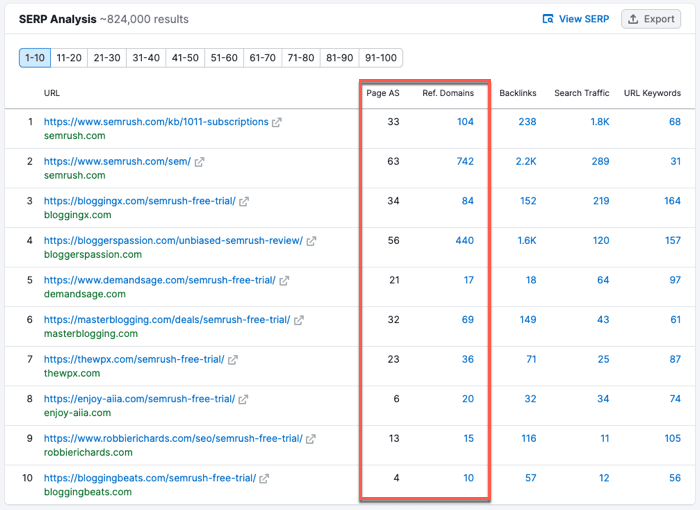 Therefore, this might be a page I decide to set as a priority link-building target.
Note: When identifying the existing keywords to build links to on your site, start with the highest-intent terms.

For example, you could add an advanced URL filter and drop in the subfolder – eg: /products – that contains your most valuable content to narrow the focus quickly:
3. Find keywords that can drive qualified referral traffic
The premise of this tactic is to identify keywords with decent search volume that return lists of the product or services you sell. You also want to get featured on these resources since they are already ranking for keywords attracting your ideal customers.
Start by listing the services, products/functions/features you sell.
For example, a site like Semrush might list things like SEO, keyword research, link building, PPC, technical SEO, and rank tracking, as these are all functions or features of its platform.
Next, enter a modifier like "best" or "tools" into the Keyword Magic Tool. Then in the "Include keywords" box, select "Any keywords" and add those features/functions: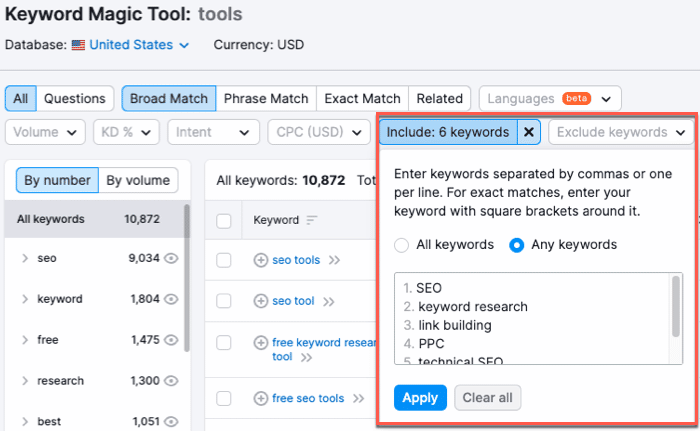 Now, you can click the ">>" to view the SERP reports for the keywords with the highest search volumes and start to build a list of all the sites ranking in the top 10 (that are NOT direct competitors).
Then reach out to the sites asking to be included with this template.
This is an incredibly valuable link. Not only will you get the link equity, but the referral traffic will be highly qualified and likely to convert. For instance, someone searching for "best keyword research tools" might want to try out Semrush during the evaluation stage of their buyer journey.

Editor's Note: You can use this same tactic to find third-party review sites ranking highly for these keywords to list your company and maybe even purchase a featured listing.

Similarly, you can use this tactic for other types of businesses.

For example, if you're a marketing agency, you might try to find opportunities to get listed on "best agency lists". Or, if you're a local service business, you'll likely find industry review sites ranking for these keywords that you'll want to add a listing on and link to your website.
Which Keywords Are You Going to Use for Link Building?
So there you have it – 3 actionable ways to find keywords for your link-building campaigns:
Rank for "linkable keywords.
Find existing keywords with backlink gaps.
Find keywords to drive qualified referral traffic.
Give each method a go, and see which keywords you can target for passive link acquisiton and/or quick ranking gains.