Google is constantly testing what kind of content best serves the user intent for different queries. To do this, it looks at many different on-page factors.
Surfer SEO is one of the best data-driven tools for figuring out which of those factors correlate most strongly with high rankings. These insights can be used to optimize existing and new content assets so that every piece of content you publish has a better chance of ranking higher, faster.
In this review, I'll cover:
What exactly is Surfer SEO
Its core features
How to use it
Pros & cons
The pricing
In the end, I'll also compare it to other popular content optimization tools, so you can make the most informed decision as to whether Surfer is right for you.
Disclaimer: This article does contain some affiliate links. If you purchase a tool through one of my links I will receive a small commission at no additional cost to you. This is how I fund the blog and its promotion. Thanks for the support.
What Is Surfer SEO?
Surfer SEO provides a set of tools that helps you with on-page optimization.
These tools are:
SERP Analyzer
Content Planner
In essence, Surfer uses Natural Language Processing (NLP) technology to analyze pages ranking highly for your target keyword and determines "SEO rules" that apply to that SERP.
By following these guidelines, Surfer promises that you'll get higher rankings and more traffic.
Surfer SEO Tool Features
Content Editor: "Surfer's Biggest Hit"
The Content Editor is used for planning articles from scratch, or optimizing content in existing articles:
Enter the target keyword and Surfer will take ~10-15 seconds to analyze the SERP.
Once it's done, it'll show you suggested actions in the right column. Here is an example for my "ahrefs vs semrush" article:
(1) The Content Score metrics grade your overall content quality and relevancy based on factors like:
Use of relevant words and phrases
Article structure
Content length
Images
Original data
Hidden content
Primary and secondary keywords
Generally, a score below 33 means your content isn't relevant on your target SERP, and a score above 67 means your content is high quality and relevant.[*]
(2) The Content Structure tells you how many words, headings, paragraphs, and images you should have in your article based on other best ranking results on the SERP.
(3) The NLP Terms are words and phrases that best ranking articles commonly use in their text. Search engines believes that articles that include these terms have answers that users are looking for.
NLP Terms are Surfer's bread and butter, and it's why most people get Surfer. NLP optimization is one of the most powerful on-page strategies to increase the rank potential of your content.
Because it's so powerful, I've included a step-by-step tutorial below on how to use the Content Editor to optimize your content.
You can find it below or by clicking on this link.
SERP Analyzer: "See Every Correlation"
The SERP Analyzer tool helps you find correlations between SERP position and on-page factors.
You select the metrics in the left column (1) and they get mapped over in the chart view (2).
In this example, I can see that for the keyword "best seo tools" articles rank higher when they're longer, have more HTML, and partial keywords.
But those are just three of many metrics you can select.
Surfer allows you to analyze the SERP by:
Number of paragraphs
Number of characters
Number of images
Number of words
Keyword density
Semantic keywords
Page speed
HTML size
etc.
And that's not all.
Below the chart, you also have a table to analyze the SERP manually.
(2) Each result comes equipped with the Content and Domain Score, reflecting content and backlink profile quality; allowing you to quickly determine how difficult it will be to rank on this SERP.
(1) In the header, you can also select other tools for analyzing the SERP. For example, you can find out which keywords the top results also rank for:
In conclusion: The SERP Analyzer is a fantastic tool for analyzing all the top SERP competitors at once, and providing a treasure trove of data that you can use to optimize your content across all the major on-page elements – content structure, primary and semantic keywords, word count, media, load time, link metrics and more. It provides a data-driven roadmap for higher rankings.
Content Audit: "Insights Into Ranking Factor"
Content Audit and Content Editor are very similar tools.
While Content Editor focuses more on helping you change your content, Content Audit gives you a detailed breakdown of how your content could be made more competitive.
Click here to check out the live report yourself.
(1) First, I get to select competitors which I want to analyze.
Then, I get suggestions on improving my content score (2). I can see it's already pretty high. But I am missing quite a few common backlinks (3).
Sometimes, the suggestions are vague. For example, Surfer suggests I add anywhere between 1,000 to 5,000 words to my blog post. That's a huge range.
Besides word count, the Content Audit tool advises on:
Terms I should be using
Internal links I should add
Exact and partial keywords
Fixes to the page structure
Page speed improvements
In conclusion: although the Content Audit tool is great for finding out what needs to be done to push a page higher in the rankings, use it with discretion. The recommended ranges can be extremely broad. In reality, it'll often be enough to just add a few missing sections or sentences to include the recommended keywords. Also, focus on the gaps shown between your content and the top 3 ranking URLs that have the same content type. i.e. if your asset is a blog post, adjust the settings in Surfer so that you are only comparing your post to the top 3 ranking blog posts. Don't compare your content to other content types such as a home page or product page.
Content Planner: "One-Stop-Shop For Topical Authority"
If you write articles on similar topics as your main keyword, you'll increase topical authority and make your main page rank higher.
That's exactly what the Content Planner tool helps you do: find all supporting keywords you can write around your main keyword.
For "best seo tools", I get 142 clusters.
(1) The clusters are organized in panels. These include the supporting keyword along with many variations that have the same SERP.
(2) Every cluster has an Intent metric. This tells you the search intent behind the supporting keyword. It could be Investigational (best seo tools), Informational (youtube seo), Local (seo agency new york), or Commercial (buy surfer seo).
(3) Finally, you also have an MSV (monthly search volume) metric for the entire cluster. Alongside you have a KD metric, that is different from other tools. This one tells you, on a scale from 1 to 10, how competitive the keyword is based on the domain power of the best ranking results.
What I like most about this tool is that you can click on a panel and select or deselect keyword variants as you see fit. Once you're happy with the selection, you can immediately import them in a new Content Editor to prepare the environment for your next article.
Keyword Research: "Potentially Useful"
Surfer's Keyword analysis tool helps you find more keywords based on your seed keyword.
(1) First, you enter the keywords in the upper right search bar. After pressing enter they'll be moved below, to the "Your analysis" panel. Here, you can select if you want to have them in your next analysis or not.
(2) In the upper left column are keyword research modes. You can choose between:
Similar Keywords
Same terms
Questions
(3) Surfer will find keywords based on your research mode, and show them in the table. The most interesting metric here is the "max SERP similarity", which tells you how many results in the top 20 are identical between the seed keyword and Surfer's suggested keyword. For example, a 60% SERP similarity means that 12 out of 20 URLs in the search results are identical.[*]
This metric helps you decide whether a keyword is worth targeting with a separate page (if the SERP similarity is say 30% or less) or should you chunk it together with the seed keyword.
Grow Flow: "Your SEO Intern"
Grow Flow is Surfer's latest tool.
Although it sounds complex, it's really simple — it's SEO gamified.
In essence, Surfer analyzes your entire website and gives you a flow of tasks that will grow it.
The idea is that you complete the tasks, and Surfer will track the changes in ranks.
The suggestions are basic, but sound. They're easy to understand even for SEO beginners.
This is why this feature is amazing for SMBs and solopreneurs who don't have time or money to hire an SEO resource, but still want to use their website to attract new inbound opportunities and grow over time.
Surfer SEO: Quality of Life Features
Surfer SEO Integrations & Extensions
Surfer SEO and Semrush
Surfer has integrated with Semrush, the all-in-one SEO toolset, with the sole purpose of improving Grow Flow. Since Surfer SEO doesn't have strong off-page SEO capabilities, it relies on Semrush to find which backlinks your competitors have recently acquired and use these insights in Grow Flow tasks.
Surfer SEO and Jasper AI
Jasper by itself doesn't write SEO-optimized copy. But by integrating Jasper with Surfer, you can get it to include your desired NLP terms in the copy that it generates.
Surfer SEO Chrome Extension for Google Docs (150)
You can use Surfer's Content Editor with Google docs by installing a chrome extension. Once installed, you can click the google chrome extension icon and Surfer will load on your Google Docs just as it loads on the original editor. Now, whenever you make changes to your file, Surfer's metrics will be updated in real-time.
Customer Support
I wanted to check the responsiveness and quality of Surfer's customer support team.
I contacted them at 9:52 AM with a question regarding some specific functionality in their Keyword Research tool.
At first, a bot replied letting me know the usual reply time is one day.
Then Kevin responded with a solid answer at 11:45 AM, exactly 1 hour and 53 minutes after I submitted the question.
User Interface and User Experience
Surfer has a minimalistic interface.
Despite the minimalism, it has everything you need on one screen.
(1) The first column on the left side has all Surfer's tools stacked on top of each other. There are no extra dropdowns or hidden menus.
(2) On the right side of the screen, you have the same tools in a grid view. Under each is a list of five of your most recent reports for quick access.
(3) In the bottom side of the left column, Surfer shows you how many credits you have left that month.
(4) Finally, the support button with quick access to their customer support, sales team, or tutorial library.
In conclusion: Surfer's interface is extremely use-friendly, yet still packs everything you need on one screen.
Tutorial: How to plan an article with Surfer SEO
First, type your target keyword in the Surfer SEO Content Editor tool.
Then, click on custom settings: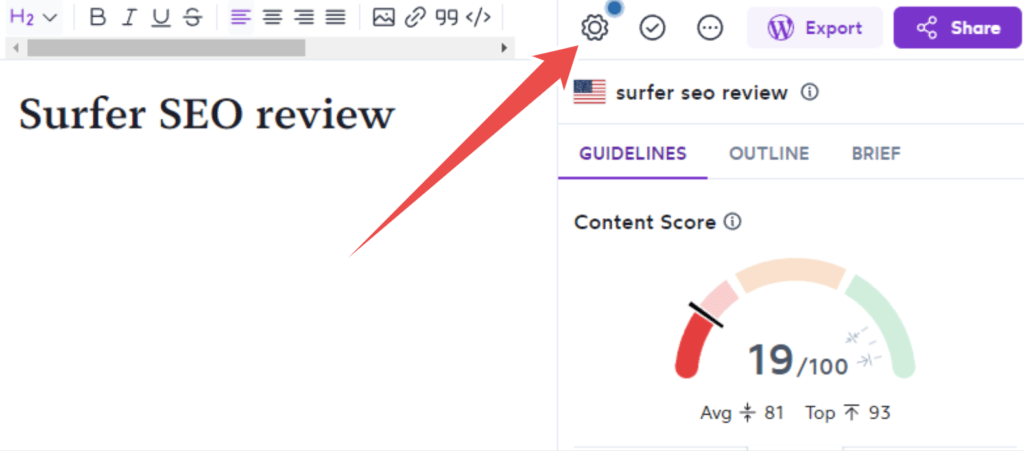 Select only the top-ranking URLs that are in the same content type as the content you want to write. This is crucial.
Once you've got that set up, switch over to the outline view (1).
Here, you'll see Titles, Headings, and Questions (2). These will give you ideas to include in your article. Keep in mind that these aren't exact headings and questions from your competitors: Surfer used its AI writer to give you custom suggestions so you don't duplicate the exact headings.
Start with the Title.
Pick one that you like best and edit as you see fit.
Now, open the Headings.
Surfer will suggest titles for H2 headers (1). You can also expand the selection (2) and get H3 suggestions as well.
Scroll through these and add them to your outline.
Here's what I've generated in 3 minutes using these suggestions.
I didn't need to do any research to get this outline.
At this point, it could be a decent article.
Of course, I decided to expand on it with original research, and ended up changing the headers more to my liking. But for the first outline, this was very helpful as a starting point.
Now you can share the outline with your writer via a public link.
Tutorial: Optimizing Existing Content With Surfer
Finding NLP opportunities in your existing content.
The easiest way to increase your score is to adjust the phrases you were naturally using throughout the article.
For example, I haven't mentioned "seo tools" anywhere in my Ahrefs vs Semrush article.
Instead, I was using the word "toolset", which isn't standard for this SERP.
So the first thing I'll do is open the search function (CTRL+F) and find all occasions of either "tools" or "SEO" and see if I can change them to "SEO tools".
Just in the intro I've found three instances where I wrote "toolset" instead of "SEO tools".
After this tweak the NLP terms in the lower right column turned green and my Content Score improved by 1.
Rinse and repeat.
Adding content to include NLP terms.
Sometimes, turning existing phrases into NLP terms won't be possible.
For example, nowhere in my article did I write about "semrush keyword magic tool".
In this case, Surfer gives you the option to expand the NLP term and see examples of how competitors are using it in their content.
This will give your ideas about what section, paragraph, or sentence you'll have to add to your article.
In my case, I had to add an entire section on Semrush vs Ahrefs for keyword research and mention the Semrush keyword magic tool.
That's the entire process of how to optimize existing pages with NLP.
Surfer SEO Pricing
Pricing
Plan
Price
Content Editor
Credits
Content Audit
Credits
Team
Members
NLP
Basic
$59/mo.
10
20
1
1 month free
Pro
$199/mo.
30
60
3
Yes
Business
$239/mo.
70
140
10
Yes
Surfer offers a 17% discount with annual licenses, and offers a 7-day money-back guarantee.
Starting with the Basic plan, you'll get everything Surfer has to offer: Grow Flow for two websites, weekly SEO insights, and all content writing, auditing, and editing tools we've discussed in the review. Specifically, you'll get 10 credits to spend on content optimization, and 20 credits to spend on page audits.
The Basic and Pro plan differ only in how much you can use the tools: Pro plans offer roughly 3x the number of credits and allow you to invite 3 team members.
The Business plan has double the amount of credits to the Pro plan, and gives you access to dedicated link building reports, API, and Surfer's white labeling.
Can I use Surfer SEO for free?
Yes, you can use Surfer SEO for free, but you'll only have access to their Grow Flow feature. With it, you'll be able to optimize and track one of your websites, and get SEO insights every 28 days.
Surfer SEO Pros: What We Like About Surfer SEO
I run a SaaS SEO agency, Virayo, and we've used just about every SEO tool on the market.
Surfer is one of our favorites.
Here's why:
Real-time Analysis
Every recommendation Surfer gives is rooted in real-time SEO analysis.
This is crucial in 2023. Google promotes different content types and formats for different SERPs. You could do it by opening the top 20 search results, reading through the content, and finding those nuances manually. Or you can let Surfer do the heavy lifting, save you time, and increase your chances of ranking.
Complex Data Made Easy
Surfer is excellent at making complex data easy to grasp.
With it, even people who aren't expert SEOs can create articles that are competitive on the SERP. That isn't to say experts won't find anything useful on Surfer. Quite the opposite. It will save you time from building outlines by hand, and the SERP Analyzer tool will give you in-depth correlations between on-page ranking factors and SERP positions for every keyword.
Public Links To Reports
Even though only you can access the Surfer account and generate reports (on the Basic plan), those reports can be freely shared with anyone—your VA, freelancer, or in-house writer—at no additional cost.
Surfer SEO Cons: Where We Wish Surfer SEO Did Better
Lacks Depth of True SEO Tools
When Surfer first came out, it marketed itself as a content optimization tool.
And that's what it did. Really, really well. After a while, the team began adding additional features, such as the keyword research tool, which is a weaker version of what other SEO tools offer. If Surfer is your only SEO tool, then it will still come in very handy. But if you own other SEO tools like Ahrefs or Semrush, you'll use Surfer's keyword research tool only in niche scenarios — for example, when wanting to see SERP overlap between your seed keyword and related keywords.
Extension Sometimes Has Slow Load Time
I've noticed that the Google doc extension sometimes doesn't update the metrics. It gets "stuck". I'll have to refresh the page for Surfer to pull in NLP terms from my text and re-calculate the content score. This is picking at straws a little bit as it doesn't happen all the time.
Surfer SEO Software Alternatives
As the GPT-3 Language Model and Google's NLP AI became commercially available, the popularity of on-page SEO tools skyrocketed. We are now seeing fierce competition in an industry that didn't even exist a few years ago.
Here are a couple of the top Surfer SEO alternatives:
| Tool | Surfer | Clearscope | Frase IO |
| --- | --- | --- | --- |
| Content Optimizer | 4/5 | 5/5 | 3/5 |
| Outline Builder | 3/5 | 4/5 | 5/5 |
| Additional Features | 5/5 | 2/5 | 3/5 |
| Starter Plan Cost | $59/mo. | $170/mo. | $15/mo. |
| Promotion | Try for Free | Learn More | Try for Free |
Let's explore the two alternatives separately.
Surfer SEO Vs Clearscope
In essence, both Surfer and Clearscope do the same thing: analyze the SERP and give suggestions on which NLP terms you should include.
The main difference is that Surfer developed other features—SERP analyzer, keyword research, and page seo audit—while Clearscope stayed true to its origin and focused solely on its on-page content optimization tool.
Because of that, Clearscope is slightly easier to use, has a better editor, and gives stronger suggestions.
This is what Clearscope's content optimization, research, and outline panels look like:
Clearscope positions itself as the premium content optimization tool, starting at a whopping $170/month for 20 content optimization credits ($8.5 per credit), which is significantly more expensive than Surfer's $59/month plan with 10 credits ($5.9 per credit). Also, take into account that you might not need 20 credits. So you're overpaying for every credit you didn't use at the end of the month.
Surfer SEO Vs Frase IO
Although Surfer is miles ahead of Frase at optimizing content with NLP, Frase is a very strong tool for creating outlines.
Here's a quick look at Frase's Outline Builder:
(1) in the left column, Frase will pull the structure of top-ranking pages. You can simply click on the headers to add them to your outline in the right column (2). You can reorganize the headers by dragging and dropping, and editing them as you like.
To me, this functionality is more intuitive than Surfer's current outline builder.
Frase also offers plans as low as $12/month. This is suitable for light users that only need to write or optimize four articles per month.
Surfer SEO Review Conclusion
Surfer SEO has the best value for the price and is my favorite content optimization tool.
The Content Editor with its NLP term suggestions is crucial for gaining a competitive edge in the SERPs. And the robust SERP Analyzer will give SEOs valuable insights into which on-page factors have the strongest correlation with higher keyword rankings.
Finally, Surfer is releasing a host of new features and integrations that are beginner-friendly and will help many bloggers, solopreneurs, and SMBs create content and unlock new organic growth opportunities.
If you want to try Surfer SEO, sign up here.